Features
---
The current setting status of the camera can be displayed over the captured image using superimposing function enabling to display text information by OSD.
When the external trigger signal is input, the image is reset at a random timing (Asynchronous timing) and the electronic shutter image can be obtained at a given point in time. (Asynchronous shutter mode)
The trigger signal for strobe light is output in synchronization with the timing to release the shutter (TTL level, active L).
The monitoring function for measuring the internal temperature of the camera is incorporated.
Preset trigger input and Pulse width trigger input as asynchronous shutter trigger input are available.
The ID information set by the user for each camera can be saved and read out whenever necessary (via serial communication link).
Applications
---
Image input device for high-resolution image processor
Appearance inspection device for LSI
Microscope usage
Inspection device for electronic packaging
Appearance inspection device for LC or Plasma panel
Input device for image processing unit connecting to computer
Spectral sensitivity
---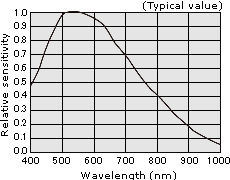 Specifications
---
Image Sensor
Progressive scanning, Interline transfer CCD
Unit cell size: 6.45µm(H) × 6.45µm(V)
2/3 inch size
Effective Pixels
1390(H) × 1040(V)Square grid pattern
Read Out
Scanning
fH= 32.0 kHz
fV= 30 Hz
fCLK= 60.0 MHz
Standard Sensitivity
400 Lx at F22
Min subject Illuminance
1 Lx at F1.4
S / N Ratio
50 dB or more
Video Output
Digital output/10 or 8 bit
(30MHz × 2TAPs × 8/10bit output)
Camera Link (Base Configuration) compliant
External Sync Input
Internal Sync only
Electronic Shutter
1/23000 sec – 1/30 sec(no shutter) – 1/3 sec
Asynchronous Shutter
Preset fixed shutter/Pulse width control
Scanning Mode
Normal scan(all pixels)/Partial scan(central part)
Lens Mount
C mount (flange back fixed)
External Control
Serial interface via Camera Link interface
Special Function
Function of superimposing setting information on screen
Function of monitoring internal temperature of camera
Function of storing camera ID information
Power Supply
DC12V±10% 350mA Max.
Outside Dimension
46(W) × 42(H) × 60(D)mm
(excluding tripod attachment)
Weight
Approx. 150g
Dimensional Outline Drawing
---