Features
---
Capable of image transmission over 100m without repeater.
Capable of capturing images on PC without an image capture board.
Equipped with IP engine for high-speed image transmission.
Jumbo frame packet-compatible.
When the external trigger signal is input, the image is reset in random timing (Asynchronous timing) and the electronic shutter image can be obtained at a given point in time. (Asynchronous shutter mode)
The camera connector (6-pins) has the trigger input terminal and the strobe timing signal output terminal for high-speed random shutter (Asynchronous shutter)
Variant trigger modes including asynchronous shutter in H-reset mode are equipped.
The current setting status of the camera can be displayed over the captured image using a superimposing function that is capable of displaying text information by OSD.
The camera is shipped with SDK including viewer software and various sample program sources.
Applications
---
Input devise for an electronic shutter image processor
Appearance inspection device
Monitoring equipment
Inspection devise for electronic packaging
Image input devices for ITS such as car number reading
Input devise for image processor connected to the computer through networks.
Spectral sensitivity
---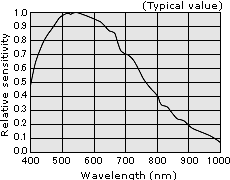 Specifications
---
Image Sensor
Progressive scanning, Interline transfer CCD
2/3 inch size
Unit cell size: 6.45µm(H) × 6.45µm(V)
Effective Pixels
1392(H) × 1040(V)Square grid pattern
Read Out
Scanning
Horizontal Scanning
fH= 33.5 kHz
Vertical Scanning
fV= 31.4 Hz
Pixel Clock
fCLK= 60.00 MHz
Standard sensitivity
400 Lx at F11
Min subject illuminance
1 Lx at F 1.4
S / N Ratio
50dB or more
Video Output
Progressive scanning: 31 frame/sec
Digital output: 8/10/12bit switchable
GigE Vision compliant
External Sync Input
None
Electronic Shutter
1/23000sec. ~1/31sec. (No shutter)~Long exposure
Asynchronous Shutter
Preset fixed shutter/Pulse width control
(H-reset ON/OFF settable for each)
Scanning Mode
Normal scan (all pixels)/Partial scan (central area)
Lens Mount
C mount (flange back fixed)
Optical Filter
None
External Control
Serial interface via Ethernet
Special Function
Image signal for Auto iris lens (without Sync. 0 to 0.7V)
Function of imposing setting information over output image
Function of monitoring internal temperature of camera
Function of storing camera ID information
Power Supply
DC12V±10%, 500mA (Max.)
Outside Dimension
36(W) × 31(H) × 69(D)mm(connector excluded)
Weight
Approx. 120g
Dimensional Outline Drawing
---