Features
---
The electronic shutter auto-iris function is operative even for a manual-iris lens.
AGC and gamma characteristics can be set by the DIP switch so that it is easy to use not only for monitoring application but also for industrial use.
Possible to reduce overall dimensions by using CS-mount lens. If it is required to use C-mount lens, insert the provided C-mount lens adapter between lens and camera body.
Equipped with back light correction circuit.
Accessories
---
DC jack
IRIS connecter
C-mount lens adapter
Rear panel
---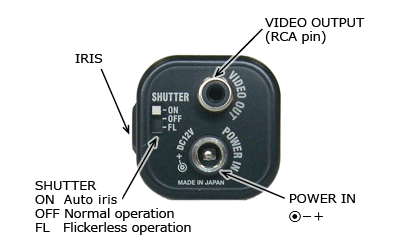 Configuration switch
---

Specifications
---
Image sensor
Interline transfer 1/2″ size CCD
Effective pixels
768 (H) × 494 (V)
Pixel size
8.4µm (H) × 9.8µm (V)
Scanning method
2 : 1 interlaced scanning
Sync system
Internal sync
Image signal output
1.0 Vp-p 75 Ω unbalanced
Horizontal resolution
570 TV lines
Min subject illuminance
0.01 lx F1.4 (AGC Lo)
0.003 Lux F1.4 (AGC Hi)
S / N ratio
50 dB (AGC OFF, γ=1)
Shutter
ON
1/60 to 1/100000 sec (Electric iris)
OFF
1/60 sec (Normal operation)
FL
1/100 sec (Flickerless operation)
AGC
ON
AGC Lo : 5 to 20 dB, AGC Hi : 5 to 32dB
OFF
AGC OFF : 10dB
Gamma
γ=0.45(ON)/1.0(OFF) Switchable
Back light correction
ON/OFF Selectable
Supply voltage
12 VDC±10%, 135 mA typ.
Outside dimension
36 (W) × 36 (H) × 58.7 (D) mm
Weight
Approx. 90 g
Lens mount
CS mount /C mount (with adapter)
Dimensional Outline Drawing
---